work that is quixotic in nature
ethereal, impractical, idealistic
beautiful in intention, unsuited for its purpose
The masks are a response to this time in which we are living,
originally made along side making functional masks
for self, friends, family
during the early days of COVID-19.
The quixotic masks are the antithesis of functional.
They do fit on a human face.
They don't protect a human from the virus.

The materials are things I have around,
in contrast to searching high, low, far, wide for bias tape and such
used in functional mask making.
Peacock feathers were easier to find in my stash than interfacing.
Prints, paintings, drawings done.
Fabric, ribbon, beads, buttons, thread collected.
Indigo dyed fabric pieces.

There is a story (and a back story) in each.

The most recent one is the first you'll see.
Every time I don't think I have more creative juice,
I do.
*****
butterfly pea tea unmasked maybe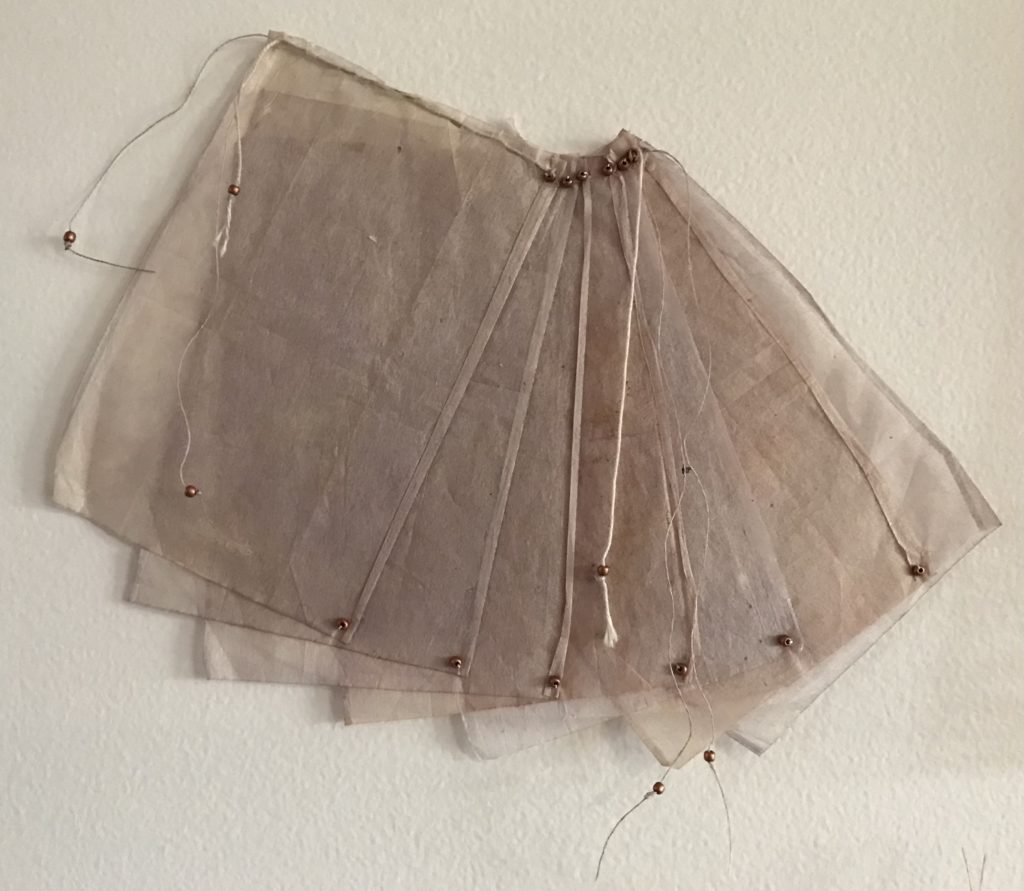 Quixotic Quarantine Mask XXIII
©Cheryl Ramette, June 2, 2021

butterfly pea tea dyed
tea bag paper
string
copper beads

my favorite Thai flowerbrews up blue & turns purple with lemon added

part of the Bangkok quarantine series
*****
hibiscus unmasked maybe
Quixotic Quarantine Mask XXII
©Cheryl Ramette, June 1, 2021
hibiscus tea dyed
various papers & tea bags
string
baby size in honor of all the children going through this time
part of the Bangkok quarantine series
*****
turmeric unmasked maybe
Quixotic Quarantine Mask XXI
© Cheryl Ramette, May 30, 2021
organic linen
tea bag paper
Japanese art paper
thread
all hand dyed with turmeric tea
masks may be almost over in the USA but not yet here in Thailand,
where quarantine has caught up with me as I spend two weeks alone in a hotel room in Bangkok
awaiting the okay to spend a month with my son, daughter-in-law, and two little grandkids,
remembering yet again that art really does save lives
*****
husks
Quixotic Quarantine Mask XX
© Cheryl Ramette, February 15, 2021
dried corn husks
woven
that's it
Is anyone else tired of wearing a mask? Just plain tired?
And yet, still creating … art, life, love, all of it.

*****
masking forever?
Quixotic Quarantine Mask XVIIII
© Cheryl Ramette, January 30, 2021
three weights organic silk
fresh indigo dye
sheet copper
copper tubing beads

possibly my favorite so far
juxtaposition of weightlessness and metal
taking non-functional to a new level

a warrior mask
*****
warm sea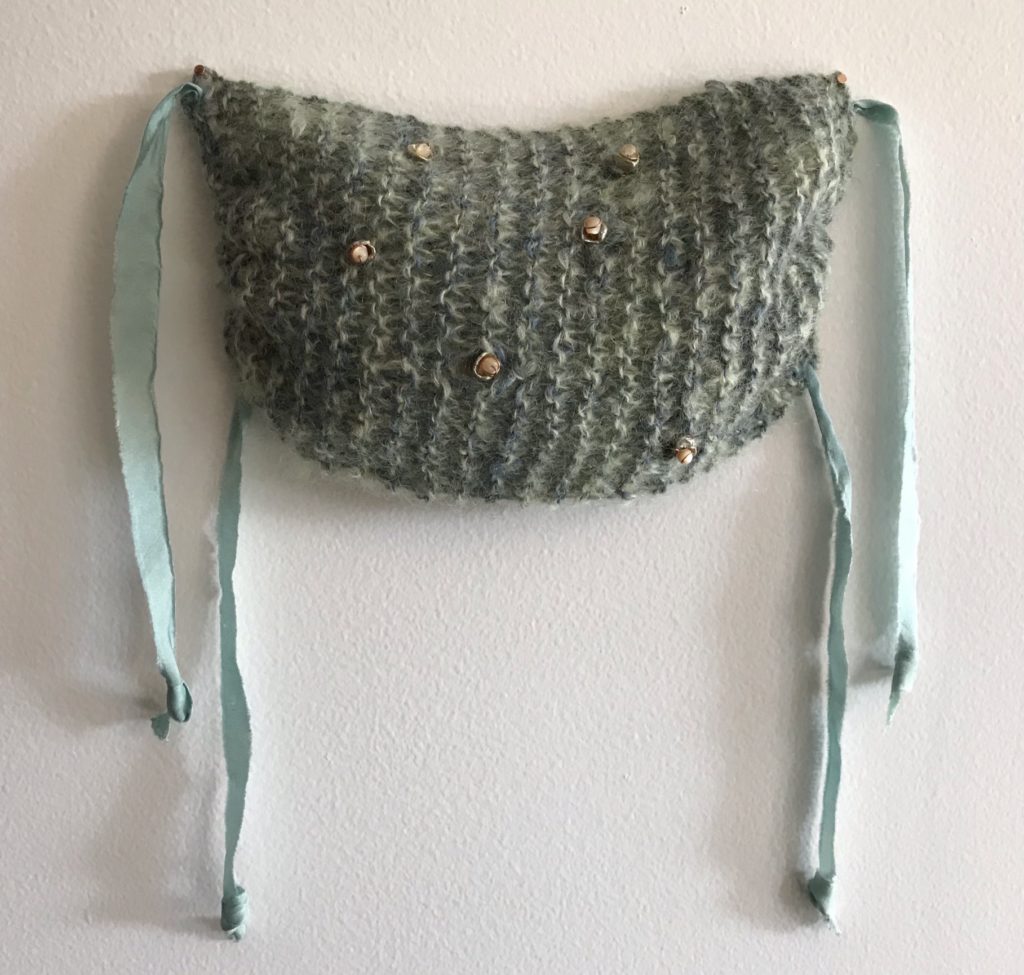 Quixotic Quarantine Mask XVIII
© Cheryl Ramette, November 16, 2020
organic silk, wool mohair yarn
hand spun, hand dyed with fresh indigo
fresh water pearl beads, beads, copper thread
silk backing & ties hand dyed with fresh indigo

wool leftover from a sweater made for my grandson, breathing his essence
*****
found objects
Quixotic Quarantine Mask XVII
© Cheryl Ramette, June 24, 2020
plastic two tone woven netting
beads
tassels

it's all feeling harsh about now
*****
coincidental eyes
Quixotic Quarantine Mask XVI
© Cheryl Ramette, May 13, 2020
natural linen
natural indigo dye, 4 dips
shibori technique
hand fringed, shibori thread, polished aluminum
long overdue tribute to a particular raccoon
*****
vintage raw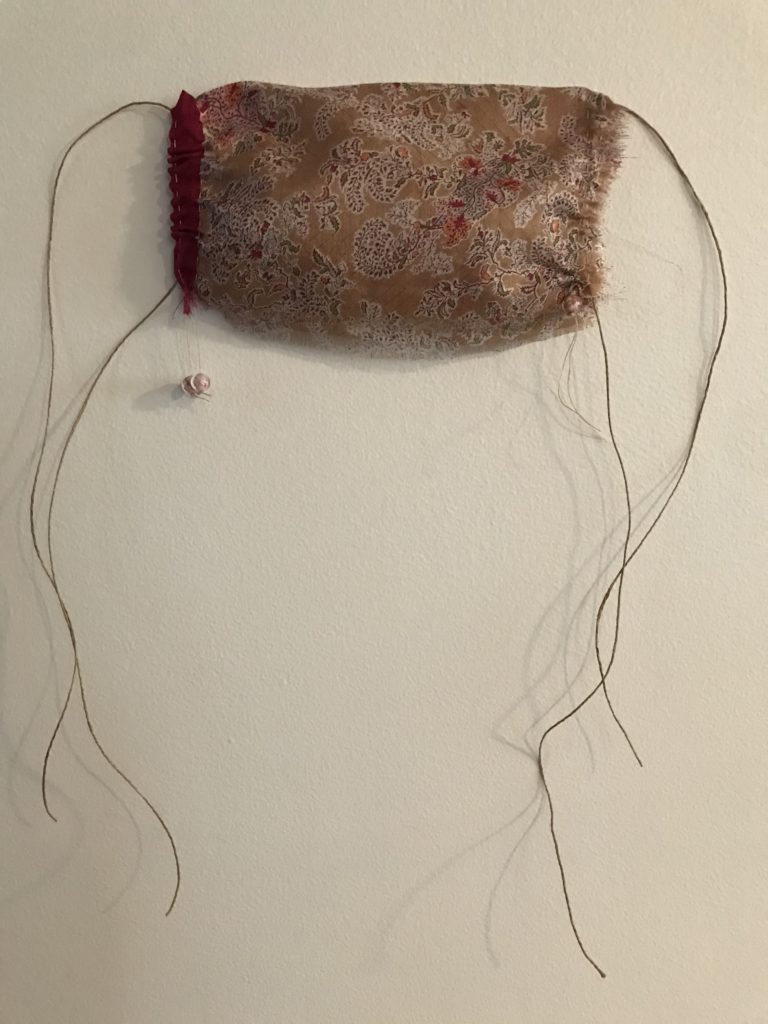 Quixotic Quarantine Mask XV
© Cheryl Ramette, May 13, 2020

silk
hand fringed
hemp thread
hemp pulls
glass beads
more vintage silk from kimono
finally finding its way into view
*****
woven wonder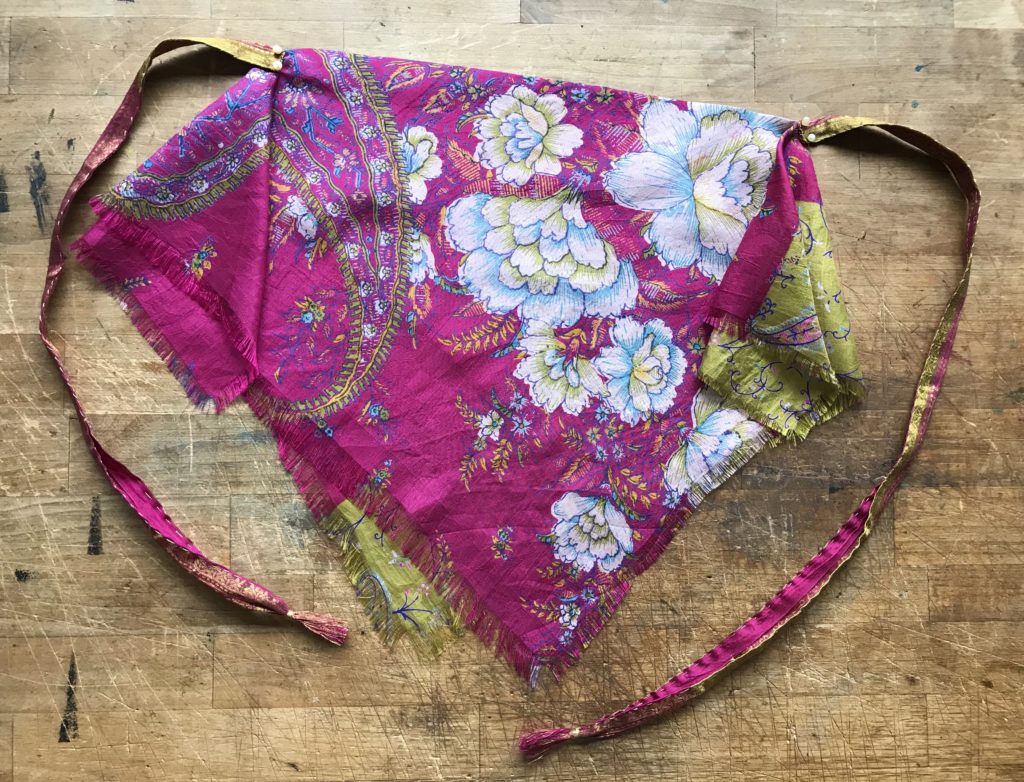 Quixotic Quarantine Mask XIV
© Cheryl Ramette, May 10, 2020

silk
hand fringed
hand sewn
beaded

fringing takes hours and threads
nest of threads and hours
*****
welcome
Quixotic Quarantine Mask XIII
©Cheryl Ramette, April 29, 2020
silk
hand water-marked, fringed, sewn
beads
ribbon

welcome, little darling, for all the people who are having babies right now
*****
pear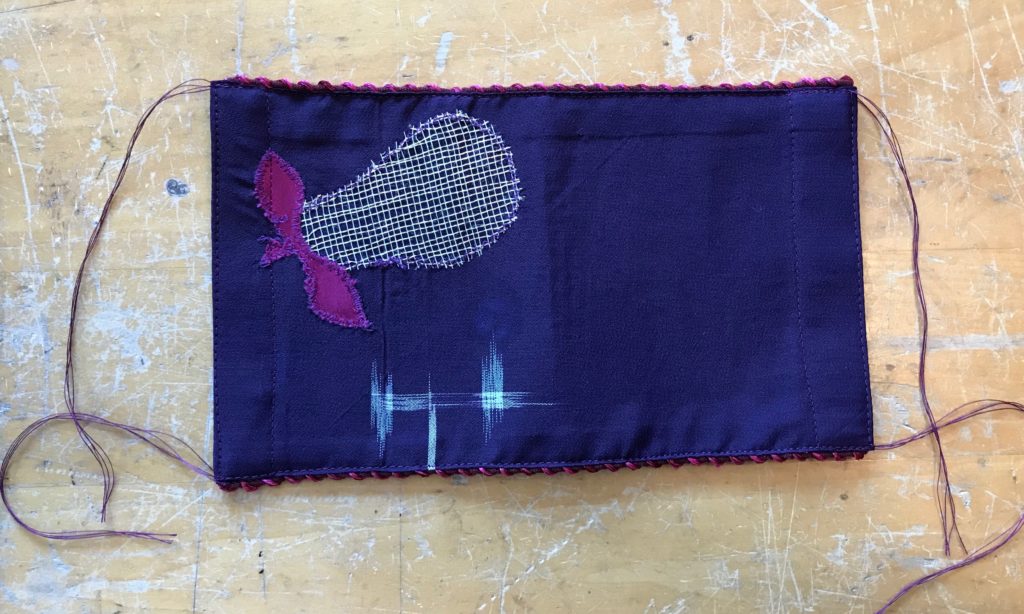 Quixotic Quarantine Mask XII
© Cheryl Ramette, May 27, 2020
vintage silk kimono fabric
appliquéd gold netting and silk pear
edging, thread
Started as a pillow cover ages and ages ago.
*****
mandala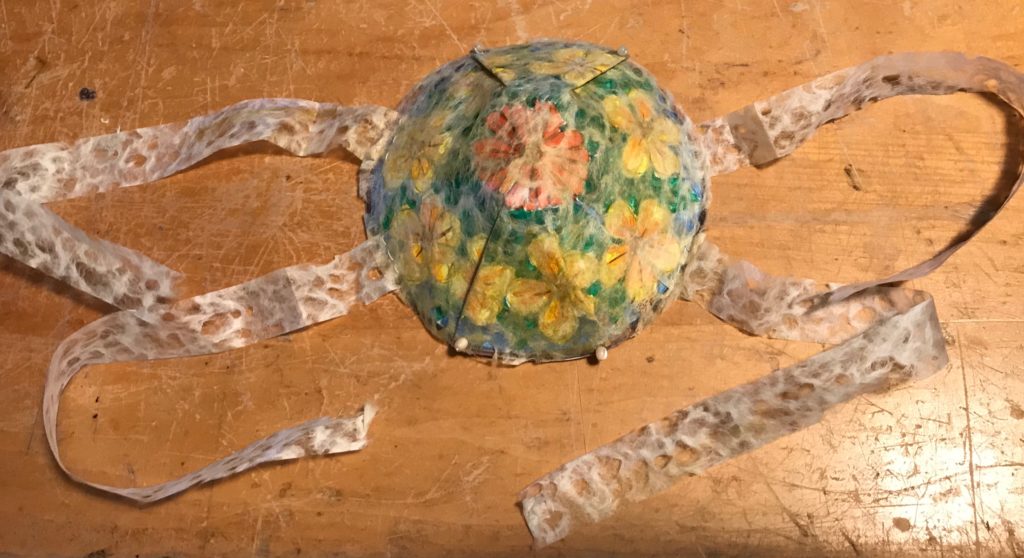 Quixotic Quarantine Mask XI
© Cheryl Ramette, April 27, 2020
Paper, paint, ink, pencil
Lace paper
Thread, pearlized beads

Flower Mandalas on Phuket, where the ladies of the morning gather and create magic.
*****
bandana
Quixotic Quarantine Mask X
© Cheryl Ramette, April 24, 2020
organic cotton bandana
hand tied and plant dyed with logwood
grosgrain velvet infused ribbon
thread

You never know who you will friend up with in a natural dye class.
*****
woven
Quixotic Quarantine Mask IX
© Cheryl Ramette, April 23, 2020
Ink on paper
woven

A sunrise reworked.
*****
flood
Quixotic Quarantine Mask VIII
© Cheryl Ramette, April 22, 2020
linoleum print on packaging paper
bias tape
vintage buttons, beads

What do you do with all the art you make?
*****
rapunzel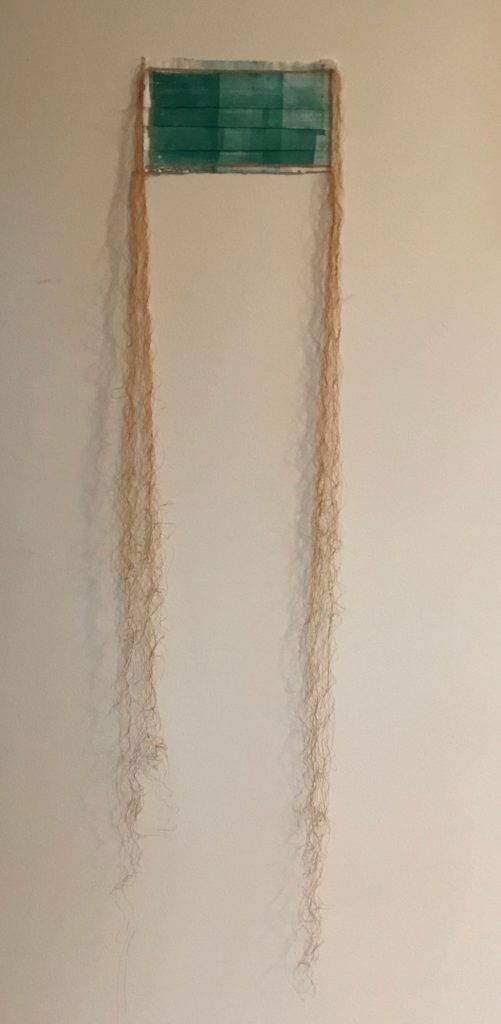 Quixotic Quarantine Mask VII
© Cheryl Ramette, April 20, 2020
ink on vellum
pleated
machine stitched
golden cotton thread ties
Let your hair grow.
*****
peacock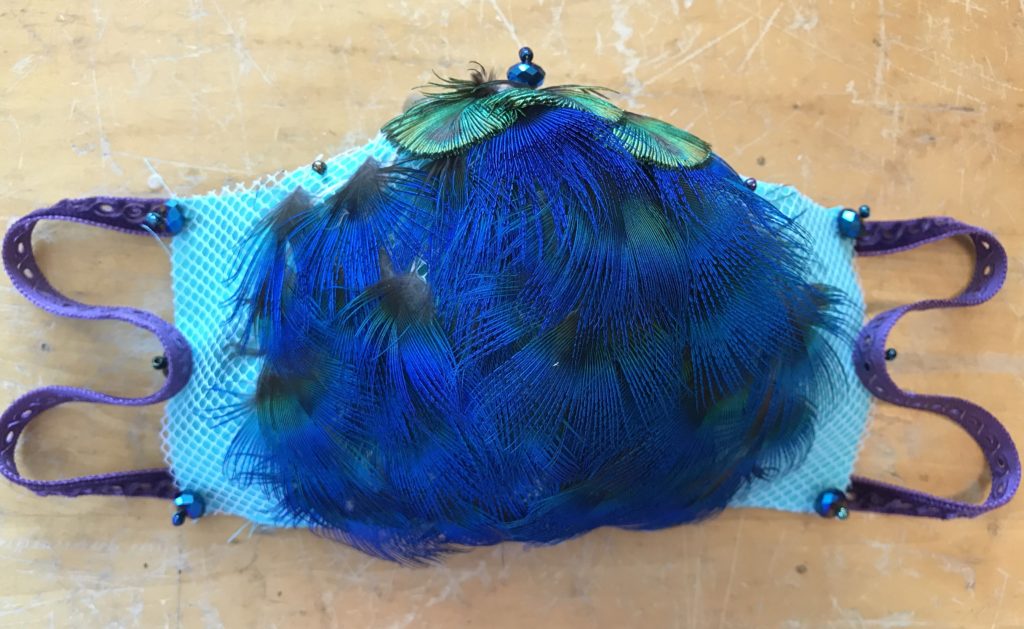 Quixotic Quarantine Mask VI
© Cheryl Ramette, April 19, 2020

peacock feathers painstakingly woven into …
netting
cotton backing
glass beads
velvet lazer cut ribbon
Whew. Going back to the simpler approach tomorrow.
*****
fan
Quixotic Quarantine Mask V
© Cheryl Ramette, April 17, 2020
wood block print
hand rubbed onto rice paper
crepe paper ties
beads, thread

Wood block. Where I began.
*****
metamorphosis
Quixotic Quarantine Mask IV
© Cheryl Ramette, April 16, 2020
hand fringed cotton
humanity turning upside down ribbon
lazer cut velvet ribbon ear straps
hand stitched iridescent beadwork

I've had this human figure piece of ribbon for a long long time and figured its time had come.
*****
evolution
Quixotic Quarantine Mask III
© Cheryl Ramette, April 15, 2020
Mixed media on paper
linoleum block print
watercolor, ink
organic linen boule
glass beads
aluminum nose piece

I've had this linen boule for ages and didn't know how to use it.
*****
for eva
Quixotic Quarantine Mask II
© Cheryl Ramette, April 14, 2020
Plant dyed and impressed cotton
Glass beads
Hand stitched center
Handmade bias ties

Eva. My art card friend. This is for you.
*****
this will end
Quixotic Quarantine Mask I
© Cheryl Ramette, April 13, 2020
Natural plant dyed & plant impressed organic linen
Hand frayed edges
Hand sewn pleats with copper thread, pearlized beads
Gold painted crepe paper ties

Hand sewing. Always and forever.