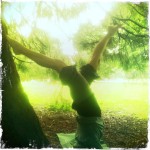 LIFE IS MOVEMENT and MOVEMENT IS LIFE.
My name is Cheryl Ramette and I welcome you to Clear Moves Somatic Education & Movement. In my view, of all the things that are important in life, moving with ease and freedom reigns supreme. It allows us to interact with our world with comfort, joy, and freedom unfettered by pain and unnecessary limitation.
My personal movement journey over the past 60+ years has been varied and for the most part an exploration of being in a body, moving through the world, moving through life. That is to say, I have always been most interested in exploring movement that helps me to feel grounded and alive, movement that helps me learn more about this incredible physical form I inhabit as a human being, and thus helps me to be at home in myself – as compared to dedicating myself to any specific form of movement. And so, I've studied dance (ballet, tap, jazz, modern, African, pedestrian), gymnastics, swimming & diving, skiing, chi gong, yoga, pilates, myofascial release, and most recently – somatics. Somatic exercise has risen to the top as 'the missing link' in experiencing comfort, ease, and freedom of movement. You can read more about this in the "Hanna Somatics" section.
As a Clinical Somatics Educator certified through Essential Somatics professional training program I know how to teach people movement practices that supports them in learning to relieve pain and bring a new found experience of ease-ful movement often beyond anything before felt. I am also a certified Essential Somatics Movement Teacher and a Stott Pilates instructor (although pilates is not something I'm currently teaching).
I walk a lot, too. Walking is the best way to integrate new patterns learned through mindful movement, and to love to utilize my birthright as a human being whose destiny it is to rise up and go forth. I hope you enjoy this website, that you learn something each time you visit it, and even more that you will join me or someone in your area or online to explore our human potential through clear moves and somatic awareness practices that feel good in body, mind, and spirit.
Thank you for visiting my website. I look forward to working with you to explore this incredibly relaxing and effective way to more with increased freedom and joy!
Cheryl Ramette
CCSE (Essential Somatics Certified Clinical Somatics Educator); ESMT (Essential Somatics Movement Teacher); Stott Pilates Instructor